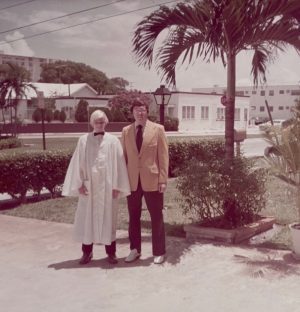 Event re-creates first outing – over A&W Root Beer ice cream float
Click to watch on: WPBF WPTV WFLX
March 2021-Palm Beach Gardens, FL– What began with a match between a 'Big Brother' and a little boy 50 years ago – thanks to the life-changing mentoring programs of Big Brothers Big Sisters of Palm Beach and Martin Counties – was celebrated in similar fashion to its humble, first outing on March 2, in the private dining room at Seasons 52, 11611 Ellison Wilson Road, in Palm Beach Gardens.
There, amid a setting filled with #5 #0 balloons and an intimate group of guests, Jim Martz, the 'big', and Dr. Andrew Hope, the 'little', shared laughs and conversation and celebrated their 50-year friendship that has grown and become a story of two men becoming the best of 'besties' through the years.
Over a delicious lunch, the two reminisced by looking at photos of time spent together fishing, playing sports, camping, and at Hope's wedding, when Martz did the honor of serving as his best man.
On a short, celebratory program, Yvette Flores, CEO of Big Brothers Big Sisters of Palm Beach and Martin Counties, presented each a 50th anniversary, engraved frame holding a photo of the pair, and a newspaper article from when they first were matched.
"This beautiful occasion cheers resiliency among our "Littles" then, and now," said Flores. "Despite the obstacles many of our Littles were facing long before the pandemic, there's one thing that they continue to show us – that they are resilient.
Sharing in the special moment were Ken Ringe, the nonprofit's Board Chairman, staff, and fellow 'big' brothers. In grand celebration, to recreate what took place on their first outing at A&W – Martz, Hope, and each guest – were served a root beer float 'on the house' for dessert.
Currently, there are almost 300 children on the waiting list to be matched and the organization is actively recruiting mentors.
"Our Bigs are committed and our mentoring program will not stop," she added. "Our Bigs continue to find innovative ways to stay connected to their Littles, and our staff is not only supporting them, but also, helps connect families with the resources they need to survive."
In 2020, the organization paired 579 Littles with Bigs. Just like 'then,' the commitment begins with one, single year.
When they first met, in April 1971, Martz, of Pembroke Pines, was 26, a sportswriter with the Miami Herald; and Andy, just 9 ½ years old, was a little boy, spending most of his time without a father. Hope, who lives in Palm Beach Gardens, calls Martz his 'best friend,' saying he taught him everything from how to write a thesis, to the finer points of sports, fishing – and even – about the birds and the bees.

As Hope grew up in years and experience, year after year, he counted on the friendship that he and Martz still share. The two speak regularly and enjoy playing golf. When Hope, now a West Palm Beach Chiropractor first opened his practice, his first patient was Martz. When he got married, Jim stood up for him as best man.
Some information in this release attributed to a 1987 article published in the Sun-Sentinel by Sally Deneen