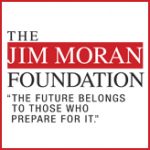 November 19, 2020
Palm Beach County — The Jim Moran Foundation continues its partnership with Big Brothers Big Sisters of Palm Beach and Martin Counties, Inc. by renewing a $40,000 grant for the School to Work Program that empowers Palm Beach County youth for success.
Through The Jim Moran Foundation grant, a new group of Palm Beach County High School students will have the opportunity to participate in a unique career mentoring program that educates youth in real life skills: resume writing, interviewing skills, basic computer skills, finance/budgeting, job search strategies, teambuilding and leadership skills. Guest speakers complement these workshop topics, teaching interactive lessons that focus on career development.
In the wake of the 2020 pandemic, the program went virtual to meet the needs of connecting youth with a business mentor and setting goals for their future. The program prepares youth for college, the workforce and beyond. Since the pilot program in the summer of 2017, the program continues to grow successfully in Palm Beach County and now Martin County. The Jim Moran Foundation's commitment to educating Palm Beach County youth in career development is empowering to those who participate in the program, providing our youth with the knowledge and experience to reach their greatest potential.
About the Jim Moran Foundation
Founded by automotive pioneer Jim Moran, the mission of The Jim Moran Foundation is to improve the quality of life for the youth and families of Florida through the support of innovative programs and opportunities that meet the ever-changing needs of the community. The Foundation has invested more than $165 million in education, elder care, family strengthening, and youth transitional living initiatives since its inception in 2000 with efforts currently focused in Broward, Palm Beach and Duval counties. Through a long-term Grant Agreement, The Foundation's significant funders are JM Family Enterprises, Inc., and its subsidiaries, including Southeast Toyota Distributors, LLC. To learn more, visit www.jimmoranfoundation.org or call (954) 429-2122.