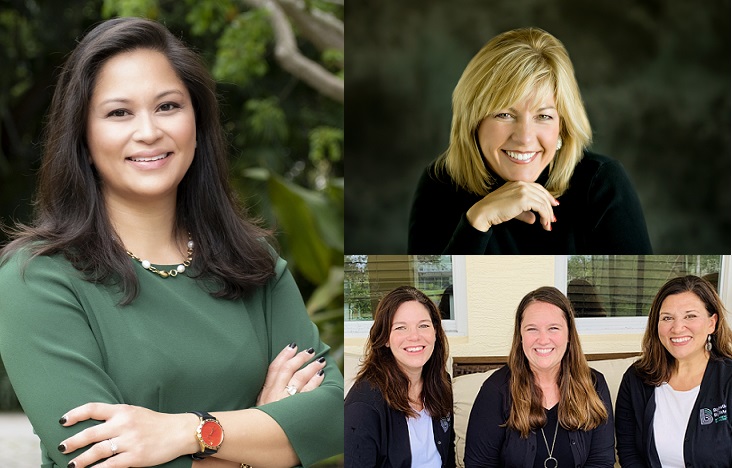 By Jackie Holfelder
Big Brothers Big Sisters (BBBS) of Palm Beach and Martin Counties recently welcomed two new staff members and two new board members to its ranks.
Lori Caparco and Sarah Butler have both joined the non-profit as Match Support Specialists. In this role, the duo will support community matches and help mentors and mentees build a bond that will last a lifetime.
Prior to joining BBBS, Caparco was an elementary school teacher for 12 years. Born and raised in New York, she went to Towson University, earned her Bachelor's degree in Elementary Education and moved to Florida in 2002.
Caparco is drawn to BBBS because she believes every child is full of potential and loves the nonprofit's mission to help children ignite that potential in themselves.
She and her husband Anthony are parents of an 11-year-old boy and a six-year-old girl.

Butler is a licensed school psychologist and have worked in school districts in Delaware, Indiana, North Carolina and Florida.
A native North Carolinian, she attended The University of North Carolina at Chapel Hill and the University of Delaware for graduate school.
Most recently, Butler worked as Director of Children's Ministry programs in a church setting.
She is driven by a core belief that every child has unique, individual gifts and loves working to help them realize their true potential.
Butler moved to Florida with her family in 2016 and lives in Palm City with her husband, Rob and 10 and 12-year old daughters and 6 -year-old-son and their furry child, Blue.

The two new Board of Governors members bring special skills and talents to BBBS.

Sandy Bailey is also a BBBS Martin Advisory Board member, co-chaired the Big Taste Auction, implemented the School to Work Program in Martin County, recruited the first class of students and business, advised on ethical issues and more.
Enjoying a successful career in the financial industry that spans several decades, Bailey recently joined the Wealth Management Team at Morgan Stanley. She volunteers at St. Joseph's Catholic Church and School in Stuart.
Kim Capen has been a native of the Treasure Coast since 1962 and is an active Martin County community advocate in the Marketing and Advertising industry. She also has been involved in over 30 charity organizations in the role of Chairperson or committee member. "I have lived and helped evolve the essence of this area for most of my life," she says."Being involved with Big Brothers Big Sisters has been an opportunity I have had my eye on for a while" I love children and love helping them prepare and advance in the world.
Kim has had an articulate and visionary profession in the Publishing world for over 3 decades for magazines like Stuart Magazine, Palm Beach Illustrated, Jupiter Magazine, Fort Lauderdale Magazine, and many others.
Bailey and Capen join BBBS Board of Governors and Advisory Members: Bonney Johnson, Cathy Glover, David Hall, David Pittinos, Ed Bee, Glenn Hasell, John Yudin, Joyce Leinberger, Larry Green, Ken Ringe, Mark Kieslor, Dr. Mary White, Richard Bova, Richard Levine, Thea Valen Lacey, and William Bee.
The mission of Big Brothers Big Sisters (BBBS) of Palm Beach and Martin Counties is to create and support one-to-one mentoring relationships that ignite the power and promise of youth.
For more information, visit www.mentorbig.org.