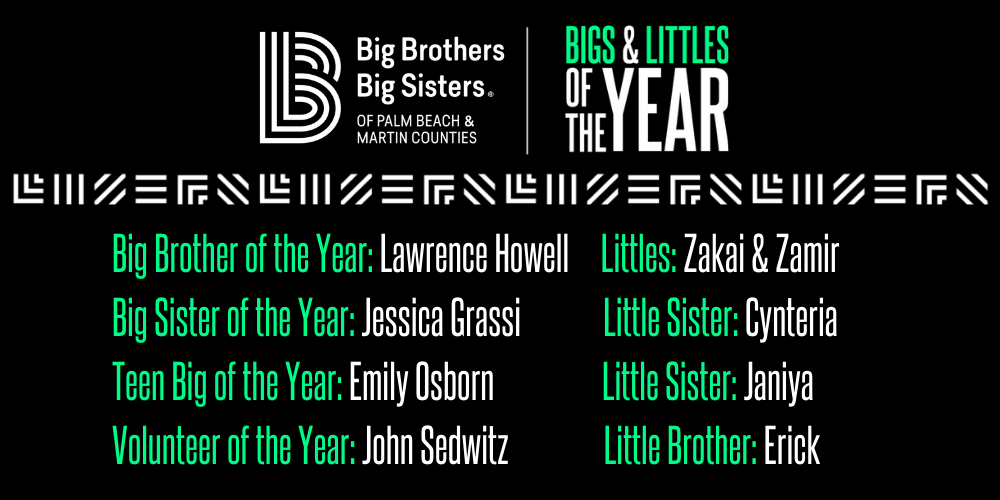 Every year, Big Brothers Big Sisters (BBBS) honors two outstanding matches: Big Brother/Little Brother and Big Sister/Little Sister of The Year. The pairs are nominated to illustrate how the mentoring relationship helps Littles achieve their biggest possible futures and makes a long lasting affects the Big, too.
After the nominees are selected by local staff, their names and stories are submitted to a State Association Chair, who ultimately selects the state's winning pair in each category. These designees then go on to the national conference, where the annual winners are chosen.
In addition to these two important selections, BBBS of Palm Beach & Martin Counties also nominates a Volunteer of the Year and Teen Big of the Year.
In the local BBBS Palm Beach & Martin County chapter, the 2020 winners are:
Big Brother of the Year: Lawrence Howell
Little Brothers: Zakai and Zamir
Big Sister of the Year: Jessica Grassi
Little Sister: Cynteria
Teen Big of the Year: Emily Osborn
Little Sister: Janiya
Volunteer of the Year: John Sedwitz
Little Brother: Erick
Although they weren't the national awardees, the life-changing effects these Bigs have on the lives of their Littles makes them winners in anybody's book!
Lawrence Howell, a Big Brother, has been matched with Little Brother Zakai since 2017. In 2019, he was also matched with Zakai's brother, Zamir. Lawrence has his own young children, but an important part of his life is spent with the brothers, fishing and going to church together on Sundays.
Jessica Grassi is a Big Sister and has been matched with her Little Sister Cynteria since 2017. Jessica and Cynteria have volunteered at the Taste of Martin County. The duo is always doing something fun around town.
The Teen Big of the Year, Emily Osborn is at the Pinewood Elementary School Based mentoring program. She has been a Big for almost three years. She began mentoring in 2017 with her first Little, Amiyah. After Amiya graduated, Emily was matched with a new Little, Amiyah's younger sister, Janiya and continues to mentor her today.
Volunteer of the Year John Sedwitz, a retiree, is a Big Brother in the School Based Mentoring Program at Hobe Sound Elementary and has been matched with Little Brother Erick since 2019. John was there for his Little during some difficult family times and has tried activities from model dinosaurs to painting to Legos to get Erick to open up.
Worldwide, the mentoring program has been in effect for 110-plus years, creating and supporting one-to-one mentoring relationships that ignite the power and promise of youth. BBBS has been serving Martin County youth since 1986 and since 2010 in Palm Beach.
Littles are aged six through high school age and need a Big to spend quality, one-on-one time with them; someone to have fun with, someone they can confide in.
Matches are made by utilizing a questionnaire with children, parents, and mentors that includes considerations such as location, interests, skills, hobbies, and other information key to selecting the best matches.
Anyone interested in becoming a "Big" or a "Little" should contact Kristine Gunn (561) 727-3450. For more information, visit www.mentorbig.org.