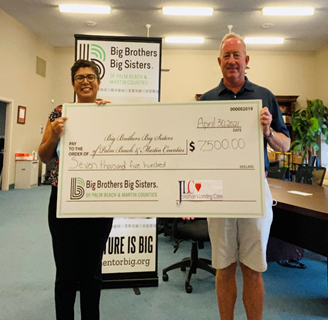 CEO, Yvette Flores Acevedo accepts check from JL Cares Representative John Hutchinson
April 2021- Jonathan Landing Cares awards Big Brothers Big Sisters of Palm Beach and Martin Counties $7500 to impact the lives of local children and youth through mentoring. This gift supports the ten areas of programming.
Because of JL Cares core values volunteering and community service, local children and youth will continue to receive the vital support of their Big Brother and Big Sister mentors. The Big and Little matched pairs build relationships which generate positive youth outcomes which last a lifetime.
About Jonathan Landing Cares


Established in 1996 by residents of Jonathan's Landing, JL Cares, a 501(c)3 charitable organization encourages and coordinates volunteer involvement by their residents and members in the Jupiter area and raises funds for non-profit agencies and schools in the local community. Each year JL Cares actively supports local agencies through volunteer work, financial gifts, and grants. Equally notable and unique among charitable organizations is that 99% of all monies collected by JL Cares go directly to the charities they support.
Each year, JL Cares members and residents volunteer thousands of hours at local organizations, including schools, hospitals, family services, and housing, learning centers, military assistance, church outreach and more. Additional core projects include Thanksgiving and Easter baskets for needy families in the Jupiter area as well as the Angel Tree project which provide gifts to local children and seniors during the holiday season.
Volunteerism is an integral part of the culture at Jonathan's Landing Golf Club and JL Cares is very proud of its dedication to help the local community and its reputation of success.